Online Course Graphic Design
The state-approved graphic design online training courses for anyone who is looking for professional further education in graphics. Our courses of study are the ideal choice for practical and creative design, learning relevant skills and obtaining constructive feedback from design professionals.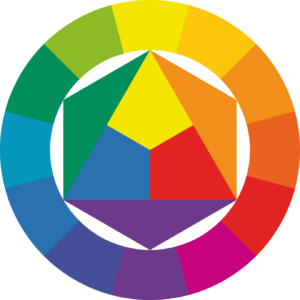 Study graphic design - a dream job!
Has it always been your dream to be creative? Would you like to work as a graphic designer, design creative concepts, implement ideas and design yourself?
More and more companies see that paying attention to design is an important means of maintaining a competitive edge. Graphic designers play a key role in this area. The task of a graphic designer and the aim of this course is to communicate visual language clearly and intelligibly.
The OfG online course in graphic design is a state approved, extended vocational training distance learning course in graphics. Our courses open up the spectrum of knowledge covering all relevant design and graphic design topics to participants in a comprehensive and understandable manner.
The OfG offers a state approved training course of study in graphic design and communication design. The graphic design online training courses are tailored to current professional requirements and oriented towards practical applications. Basic skills and design-related applications are explained clearly and with an emphasis on practical graphics work.
All course work is carefully tailored to the specific area of knowledge currently under investigation. To this end, we draw on the resources of a large pool of professional graphic designers, media designers and design agencies. This means that OfG students receive top quality practical material and valuable information at first hand from experienced specialists who are permanently in touch with the topic area concerned.
After successful completion, you will have everything in hand to work successfully as a graphic designer.
Turn your vocation into your profession.
Study graphic design and kickstart your creative career!
You can complete the 12 modules of the distance learning program flexibly at your own pace. So you can complete the course for Graphic Design alongside your job or studies as an online continuing education. This is what we specialize in.
At OfG you will implement practical projects under realistic conditions. Our assignments are specifically geared to the respective areas of communication design. You benefit from the know-how of our experienced specialists.
Since 2010, we have been developing and updating our courses in close cooperation with renowned graphic designers, media designers, design and advertising agencies and international companies.
Your graphic design coaches for this course
Curriculum of our Graphic Design online training course
Graphics and design, what is graphic design?, design disciplines, communication design, signs and language, sign systems, visual communication, semiotics, language of imagery, representation media and dissemination media, signs and codes, image or text, perspectives, media design, visual perception, constancy phenomena, principles of perception, design laws, optical illusions, forms and elements, form and design, basic visual forms, basic visual elements, proportions, the golden ratio, visual weighting, symmetry / asymmetry, the optical centre, professional practice in graphic design, design processes, visualizing ideas, design phases, working materials, optimizing the workplace, practical exercises, monthly assignment.
Colour and perception, colour designations, colour consistency, black and white, colour and effect, colour and culture, colour theory, colour circles, psychological effects of colour, complementary colours, colour tone, saturation, brightness, colour contrasts, colour harmonies, colour in graphic design, use of colour, colour and legibility, colour and advertising, colour in visual communication, colour management, colour conventions, colour design strategies, colour systems and colour spaces (RGB, CMYK, CIE-Lab), colour systems, colour and device profiles, colour profiles, special colours (Pantone, HKS, RAL), colours in the internet, colours in printing, colour palettes, practical exercises, monthly assignment.
Images and perception, images and effect, images and reality, images and power, images and advertising, images in graphic design, image composition, image selection, image sizes, cutouts, sections, image styles, image manipulation, photomontage, advertising and reality, telling stories with imagery, images and metaphors, authenticity, image management, searching for images, image databases, backups, photography in graphic design, photo design, photography and media, colour photography, monochrome photography, perspective in photography, photographing oneself, image composition, the thirds rule, photoshooting, creative photography, photopool, photo management, image processing, processing steps, working with layers, free forms, cropping, using filters, colour depth, vector graphics (PDF, EPS, SVG) and pixel graphics (TIFF, JPG, PNG, RAW), scanning for screen and printing, resolutions, file formats, practical exercises, monthly assignment.
How writing developed, script and effect, lead typesetting / digital typesetting, legibility criteria, designing for legibility, ways of reading, rules of thumb, typeface classification (DIN), foreign typefaces, computer typefaces, typeface anatomy, typeface families, fonts, typeface superfamilies, typefaces, typeface sizes, mixing typefaces, the most important typefaces for graphic designers, Helvetica film documentation, typography in design, typography in graphic design, typography and colour, typography and advertising, typography and calligraphy, typography and rules, typography as a visual presentation, microtypography, macrotypography, typography and logos, font licences and typeface management, typographical tips, practical exercises, monthly assignment.
Signs and development, signs and culture, signs and power, signs and semiotics, sign systems, sign classification, symbol-type signs, signal signs, informational signs, branding signs, image signs, pictograms, pictograms and graphic design, pictograms and effect, international pictograms, designing pictograms, types of use and design, concept of pictograms, orientation systems / signaletics, ADV, Lufthansa, Deutsche Bahn, notification signage, traffic signs, warning and prohibition signs, icons, icons and screen design, icons and uniqueness, designing icons, icons and websites, licences and administration, practical exercises, monthly assignment.
Formats, grids, design grids, multi-column grids, module grids, which grid for which design?, paper, type area, type area constructions, page elements, page margins, inside pages, image design, layout design, raw layout, final layout, prototypes, page plan, text/image ratio, layout styles, dynamics and contrast, layout tips, magazine design, magazine layout, title logo, claims, newspaper design, specialist journals, customer magazines, editing, pilot issue, magazine analysis, magazine cover, editorial, headlines, leads, redesign, designing advertising (cover pages), book design, book covers, poster design, brochures, flyers, printing, DTP, offset printing, digital printing, pre-press stage, proof, PDF export, practical exercises, monthly assignment.
Logos and brands, historical overview and context, basic forms, what is a logo?, tasks of a logo, wordmarks, image signs, trade marks, letter signs, number signs, brand protection, international signs (IR trade marks), analysis of logos, basic logo structure, logo forms, logo formats and positions, logos and colours, designing logos, tools, conciseness, reduction, surrounding layout, aids, assessing logos, criteria, format, eye-catchers, recognizability, originality, legibility, form quality, signets, logotypes, redesigns, figures and motives, key visuals, claims, effects, analyses, redesigns, development, practical exercises, monthly assignment.
Image, credibility, corporate design, tasks of corporate design, purpose of corporate design, the first impression, basic elements, the three aims of corporate design, base elements, corporate logo, corporate typography, corporate picture, corporate colour, corporate pictograms, corporate architecture, corporate fashion, corporate publishing, basic rules, design concept, analysis and elaboration of corporate designs, business 'equipment' (letterheads, visiting cards etc.), legal regulations, corporate identity (CI), CI process, CI aims, CI management, CI instruments, corporate communication (CC), corporate behaviour (CB), corporate language (CL), corporate design manual, corporate sounds, audio branding, design guidelines, best practice: Lufthansa, name generation, branding, brand development, brand protection, redesigns, practical exercises, monthly assignment.
How does advertising work? Marketing and graphic design, graphic design as an economic factor, marketing tools (KISS, AIDA), marketing terms, marketing basics, customer relationship management, marketing mix, marketing areas, direct marketing, service marketing, gender marketing, city marketing, guerilla marketing, marketing tricks, marketing mechanisms, marketing principles, marketing knowledge, stimulus categories, target-group oriented design, using Google Ads, advertisements and posters, advertising campaigns, advertising analysis, advertisement design, advertisement structure, advertisement formats, advertising business, adbusting, product placement, flyer design, banner design, newsletters, authenticity, claims/slogans, practical exercises, monthly assignment.
Screen design, intuition, clarity, conventions, credibility, graphic design and web design, design and coding, drafting and designing websites, guidelines, structure, layout, basic elements, navigation, menu, home page, media elements, details, dos and don'ts, guidelines (user experience guidelines, progressive disclosure, consistency, clear path to completion, good memory, minimal input, immediate feedback, form follows function, speaking the user´s language), choice of format, overview, technology, HTML basics, CSS basics, home page, sub-pages, search engine optimization, content, usability, digital advertising, banner design, social media channels, newsletter design, interface design, mobile end devices, microsites, practical exercises, monthly assignment.
Graphic design and management, marketing yourself, being noticed, generating jobs, customer acquisition, negotiating fees, the competition, competitions, project planning, briefing, re-briefing, de-briefing, research and draft, presentation of the creative content, the art of self-presentation, the secret of the folder, contents, interview, time management, priorities, workplace, multitasking, file management, copyright, usage rights, your own design studio, concentrating creativity, practical exercises, monthly assignment.
History of design: Arts and Crafts, Jugendstil (Art Nouveau), Vienna Secession, De Stijl, Suprematism, Constructivism, Bauhaus, New Typography
Final project: Execution of an independent graphic design project from A-Z. Conception, research, management, supervision, implementation.
Graphic Design Online Course Graduate Gallery
In each course module, you will submit a practical assignment and receive professional feedback on each.
All the work you create within an OfG course can be used for your own portfolio.
Beginners and advanced learners in graphic design who like to join an online training study, to extend their skills and knowledge
People who are already employed and who want to learn more
People who are already employed and who want to reorientate themselves
People with product responsibility in industry, service provision and trade
People entering the employment market who are looking for creative openings in graphics
People who are interested in graphic design for personal reasons
New and established media designers
Arts and design students who would like to improve their skills
Interns and trainees in advertising and design agencies
Competence in the field of graphic design and visual communication
Successful start in or continuation of professional work
Capacity to implement ideas visually and creatively
Innovative graphics skills, ability to face competition
Computer with internet access
Creative enthusiasm, mental agility, passion for creating things
Basic knowledge in graphics programs (image editing, layout, illustration)
Our graphic design online training courses are designed to be independent of specific software, and you can complete them using practically any graphics software. It is not a software tutorial.
To successfully complete the online distance learning course, we require a basic knowledge of software such as Adobe CC.
With your OfG certificate of attendance, you can purchase Adobe CC at discounted education prices.
You can also use any other alternative graphics software for this continuing education.
Study graphic design and kickstart your creative career!
Graphic designer, graphic artist, media designer, communication designer, information designer, web designer, screen designer, interface designer, UX/UI designer, art director, creative director, marketing director ...
You complete the 12 modules of the online distance learning course with approx. 8 - 10 hours per week (can be flexibly scheduled as required).
The time required for 12 months is approximately 10 hours per week. This corresponds to a workload of approximately 15 ECTS.
You can also complete your OfG course ahead of the planned schedule. To do this, you can have the individual course modules enabled separately, so you can proceed at your own pace.
Certified Graphic Designer
Our online courses are approved by the German national agency for distance learning (Zentralstelle für Fernunterricht, ZFU).
This certifies that course content is complete, correct and appropriately presented to ensure that you can achieve your educational goal (Approval number: 7243512).
149 EUR per module
In case of one-time payment of the whole course fees (12 modules / total: 1,788 EUR).
Course price in case of monthly payment: 159 Euro
Study graphic design and kickstart your creative career!
Flexible
100% online, no attendance requirements, no on-campus examinations. No fixed learning times. You decide when you want to learn.
Focused
The course of study is tailored to current professional requirements and oriented towards practical applications.
Feedback
We review and analyze every task submitted and will provide you with comprehensive written feedback and constructive suggestions for improvement.
Your Pace
You can also complete your OfG course faster than normal. To do this, you can have the individual course modules enabled separately, so you can proceed at your own pace.
Fast Development
Specific assignment design, practical knowledge, current know-how and support from seasoned professionals – those are the ingredients that add up to genuinely useful training courses.
Lifelong Access
Lifelong access to learning content after completion. The OfG learning content is updated regularly.
Hooray — I managed it in the end and it was fun!
My aim was to be able to implement advertising measures for our firm on my own.
The course explained the essential areas step by step, and I
was able to work through the course material and suggested further reading.
★★★★★
Nina Meyer
My online course with the OfG has already finished — it passes so quickly. Once again, heartfelt thanks. The content is extremely well structured and I'm sure that it will still be of help as reference material later on.
★★★★★
Jan Luley
I'm over the moon that my work was given a place on the Wall of Fame!
The work was really fun — just like the course, because I can already say after two months of participation:
I get a lot of inspiration, and the topics are prepared in an interesting way.
★★★★★
Sevira Patricia Landsberg
Study graphic design and kickstart your creative career!
✓ 100% online
✓ No attendance requirements
✓ No on-campus examinations
✓ No fixed learning times
✓ ISO-9001 certified
✓ State approved
✓ Free breaks at any time
✓ Longlife access & updates
✓ Made in Germany